Research and Development
Microfluidics Technology
Application of picoliter fluid dispensing technology for various fields.
Funai has manufactured consumer printers with our own developed printer engine. And also we focused on the potential of Thermal Jet Technology including Thermal Ink Jet (TIJ) Technology that is used for printer products. We have developed and acquired a vast array of know-how and intellectual property in the microfluidic technology space.
The unique combination of expertise in microfluidics, chemistry, materials and integrated circuit design allows Funai's microfluidic business to engineer total solutions (design, integration, services and manufacturing) for a wide variety of applications spanning the industrial, commercial and consumer spaces.
The business today is successfully building solutions for industrial and consumer printing, biomedical pico dispensing and microfluidic modules for lab-on-chip and point-of-care devices. We are also developing the devices stimulating the sense of taste or smelling and the devices of health and beauty.
TV Backlight Advanced inhouse-development
Development system for customers of a few years later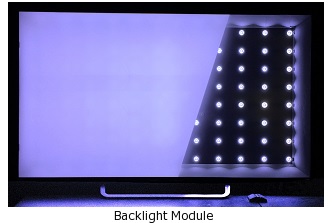 Funai TV products are actualized by having various brands in the world. We always plan and develop the new product that more customer feel good with checking trends of offering area.
Backlight module is the most important of the current LCD TVs. It relates to the brightness, the contrast, the color reproduction and the image quality. Our development team incorporates the latest technology that was built from across the world and considers a variety of parts ranging from a LED chip to large 4k2k LCD panel. It simultaneously consider the best value and specification for each area with using our technological assets that are mechanical, optical, electrical etc.
On the other hand, we are trying to use next light source, for example, it is used laser technology we accumulated through the development of CD/DVD/BD related products.
Funai continue to develop new technologies for satisfying the next user's desire in the past and in the future all the time.
■

Flow for the development of backlight