CSR Management
Management Structure
Funai Electric has established the CSR Committee to promote its corporate social responsibility (CSR) activities. The CSR Committee is under direct control of the president and is companywide, promoting CSR activity from a companywide perspective.
■

Promotion Structure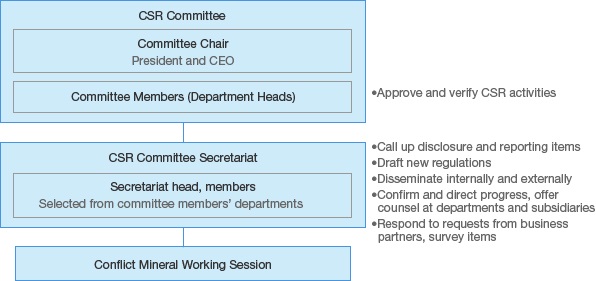 Compliance
The Funai Group Code of Conduct, which serves as a behavioral guideline for all Group executives and employees, calls for thorough compliance with laws and regulations and a deep understanding of and allegiance to this charter.
Thoroughgoing Compliance Initiatives
The Company has formulated Compliance Regulations and endeavors to conform to laws and regulations and business ethics. We have defined appropriate actions to be taken in the event that behavior by an executive or employee is in breach or thought to be in breach of laws and regulations, with the aim of preventing such actions from taking place and halting them if they do. We have also set up Whistle-Blower Protection Provisions.
Setting Up a Hotline
To prevent breaches of laws and regulations and address them in the event that they occur, the Company has assigned a director in charge of compliance as the party to receive related reports. We have also set up a Hotline within the Human Resource Department for internal consultations on matters of public interest.
System for the Exclusion of Antisocial Forces
Fundamental Policy on the Exclusion of Antisocial Forces
We have formulated the Funai Group Code of Conduct, pertaining to all Group executives and employees. This code outlines the Group's fundamental stance on compliance, stating that we firmly oppose antisocial forces and groups that threaten safety and social order, block all ties with them and reject any undue claims they may make.
We promptly sever ties with any business partners discovered to be organizations, companies or individuals with links to antisocial forces.
Status on the Exclusion of Antisocial Forces
The Company shall designate its Human Resource Department as a principal division in charge of dealing with antisocial forces to unify management of information thereon. To respond to antisocial forces, we work closely with external specialized agencies, including the police, organizations with community ties and legal counsel, and we have put in place a cooperative system for emergency situations.
Information Security Management
Basic Policy on Information Security
Information Security Management System
We have established the Information Security Committee, chaired by the president, to promote information security measures and monitor and review the information security management system. To ensure thorough management of information, the chair of the Information Security Committee convenes regular committee meetings twice a year and additionally if important matters for discussion come to light.
Certification Acquisition Status
In response to societal demands for information security, the Company's headquarters departments have obtained certification under ISO 27001, the international information security management system (ISMS) standard.
At headquarters, the Information Systems Department, the Human Resource Department, the Business Administrative Department, and the Investor/Public Relations Office have obtained ISO/IEC 27001:2005 and JIS Q27001:2006 certifications.
Respecting and Protecting Intellectual Property
Our fundamental stance is to protect the Company's own intellectual property rights and respect the intellectual property rights of others, and we conduct activities in this regard from a medium- to long-term perspective.
We follow patent-filing strategy based on protecting Funai products with our own patents, working to generate and acquire intellectual property effectively and efficiently. As part of our efforts to respect the intellectual property rights of third parties, we have introduced tools to research patents at the product development stage, and we provide ongoing training for our engineers.
Human Rights Initiatives
Our corporate code of conduct addresses the topic of respect for fundamental human rights, and states that the Company's determination not to engage in discriminatory actions or human rights violations. Based on this code, which also eschews child labor and forced labor, the Funai Electric Group concentrates on the creation of a corporate culture focused on respect for human rights.
Preventing Harassment
The Human Resource Department serves as the consultation desk on issues related to sexual and power harassment, providing a refuge where any employee victimized by such harassment can go for consultation. The department responds promptly to allegations, confirming their validity and swiftly taking corrective action as required.
Harassment Awareness Training
As part of our efforts to foster a corporate culture imbued with a respect for human rights, we conduct harassment awareness training for employees when they join the Company or are promoted.
Stakeholder Communication
We recognize the importance of communicating with stakeholders from the perspective of furthering its own CSR, which is designed to foster a sustainable society. We proactively create opportunities to obtain stakeholder opinions and communicate with a wide range of stakeholders in a range of formats.
Customers
Shareholders and Investors
Local Communities
Business Partners

Response to phone, web-based and other inquiries

General meetings of shareholders
Publication of annual reports and newsletters
Financial results seminars for institutional investors and analysts
Web-based disclosure
Response to phone, web-based and other inquiries

Promotion of community contribution activities

Networking events
Plant tours