Product-Related Activities and Results
Funai Electric believes that satisfying customers by producing environmentally friendly products is of topmost importance, and we design and manufacture products with this concept in mind. Specifically, we endeavor to develop products that are lightweight and simple so they use fewer resources. By decreasing the amount of electricity products use, we contribute to reductions in global warming when our products are used by customers. Making products slimmer means that they can be transported more efficiently, and this reduces the environmental impact of the shipping process. By eliminating hazardous substances from our products, we are working to halt environmental pollution. To ensure that these goals are achieved on an ongoing basis, we have established the Product Environment Committee as a cross-company organization for environmentally considerate product design.
Green Procurement
We are working to reduce the use in our products of chemical substances that negatively impact people and other living things, as the chemical properties of these substances can be concentrated through the food chain. Our efforts extend throughout our supply chain to include our business partners. Specifically, our Green Procurement Standards reflect revised and in-force laws and regulations on the inclusion of chemical substances in products. We also confirm that our business partners have in place appropriate system for managing the inclusion of chemical substances.
We collaborate with industry organizations as part of our efforts to manage hazardous substances in accordance with new regulations on chemical substance management.
Life Cycle Assessment (LCA)
■

LCA Evaluation Results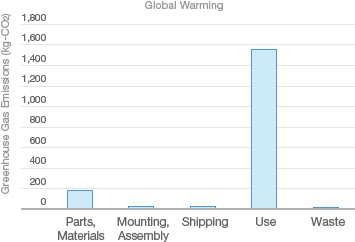 Evaluating the impact of a product on the environment requires an understanding of that product's impact on the environment throughout its life cycle. Life cycle assessment involves defining and evaluating the environmental impact of a product at each stage throughout its life cycle, including resource extraction, material procurement, product assembly, shipping, use and disposal.
Since fiscal 2007, each year we have conducted LCAs for each of the principal products we sell in the United States. We also pursue environmentally considerate product design.
■

LCA Scope of Application

Product Environmental Education
We periodically conduct product environmental education to help employees and business partners understand environmental issues and boost their awareness of the need for environmentally friendly products. We believe that ongoing product environmental education is reflected in product design and development, and ultimately in customer satisfaction with our products.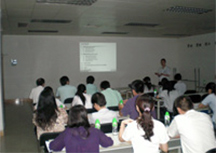 Explanation of Regulations
Guidance on JAMP-AIS Application