Companywide Promotion Structure
Environmental Management Structure
Taking a proactive stance on environmental management and its efficient introduction, Funai Electric has created an environmental management system based on ISO 14001. We have nearly completed efforts to acquire ISO 14001 certification for our principal worksites in Japan and overseas. (Click for Certification Status.) Furthermore, we have created a companywide system to promote environmental management.
Under this structure, we have in place the 14001 Promotion Committee to encourage environmental preservation activities at worksites. The Human Resource Department serves as the committee's secretariat. We have also established the Product Environment Committee, which focuses on product environmental preservation activities. This committee's secretariat is the Product Environment Office. These two committees play a driving role in the Company's environmental preservation efforts.
■

Environmental Management Structure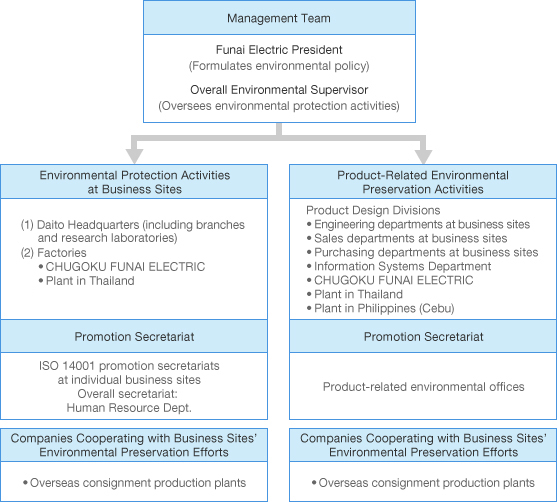 Environmental Education
As part of our efforts to educate and train employees about ISO 14001, we establish training themes and conduct environmental education accordingly. We also conduct training periodically to make employees aware of the activities being conducted according to Funai Electric's Environmental Policies and to raise environmental awareness.
In addition, to promote self-directed environmental activities we periodically conduct ISO 14001 internal auditor training.
| Type of Training | Timing | Trainees | Content |
| --- | --- | --- | --- |
| New Employee Training | When joining the Company | All new employees | Overview of ISO 14001 and content of activities |
| General Training | Six times per year | All employees | Materials prepared by the ISO 14001 secretariat |
| Specialized Training | Once per month | Mainly engineers | Materials prepared by the Product Environment Committee |
| Study Course for Promotion Committee Members | Once per year | ISO 14001 Promotion Committee members | Materials prepared by the instructor |
Background for ISO 14001 Training
Every year, we arrange courses taught by instructors from inside and outside the Company. In fiscal 2014, we held a brief meeting about recycling process flow of waste plastics to be discharged from office and learned how it was important to do the classification disposal.