Shareholders and Investors Relations
Proactively Disclosing Information
Funai Electric's fundamental approach is to disclose to shareholders and investors information that is useful in making investment decisions, and to provide that information promptly, accurately and fairly. To this end, we produce and publish an Annual Report (annually), a Fact Book (annually) and a Shareholder Newsletter (semi-annually). The Newsletter employs graphs, charts and photographs to explain our activities in an easy-to-understand manner.
We meet its obligation to provide explanations to stakeholders, including shareholders and investors, by providing Video Footage of its General Meeting of Shareholders and Financial Results Seminars. Such efforts help to deepen an understanding of us.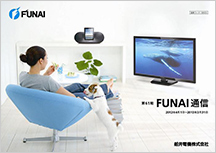 Shareholder Newsletter
Annual Report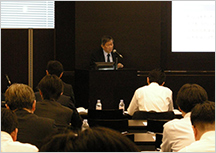 Financial Results Seminar
Promoting Communication
General Meeting of Shareholders
We consider the General Meeting of Shareholders a valuable opportunity to communicate directly with shareholders. When reporting its operations at the General Meeting of Shareholders, we employ slides designed to present results in a simple and easily understood manner. We also put principal products on display in the meeting hall. Furthermore, twice each year we hold a Financial Results Seminar for institutional investors and securities analysts.